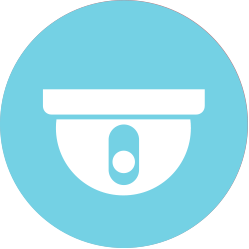 CCTV is predominantly used on commercial premises, although many more homeowners are choosing to install CCTV as a burglary deterrent. Systems can be highly sophisticated, capturing and recording incidents 24 hours a day, and are often controlled remotely from a central monitoring station such as in town centres.   
Many industrial premises or warehouses use detectors that trigger an alert when someone enters the property illegally.  If there's no one monitoring 24/7, an automatic loudspeaker can activate a warning to deter the intruders or summon a police response via an alarm monitoring centre. Businesses may also choose to install covert CCTV with small hidden cameras to monitor potential thefts or inappropriate activity.
IP CCTV
CCTV cameras can be linked to an existing IP computer network, or a new network installed specifically for site security, and accessible via a smartphone, tablet or laptop for viewing onsite or remotely.  This is reassuring for business owners, retail or site managers who want the ability to keep an eye on their premises at all times.
ANPR (Automatic Number Plate Recognition)
ANPR can be linked to your access control system to identify vehicles and automatically open gates or barriers.  As well as controlling access to your premises, ANPR can also be installed for tolling, car park management, counter-terrorism, bus lane enforcement and to assist law enforcement organisations.
A Case Study
Find out why Red Alert was selected to install a specialist CCTV system at the prestigious Whitechapel Gallery following an expansion project.
Call us on 01233 501999 to discuss your security needs with a member of the Red Alert team. As with all enquiries there is never any obligation to proceed any further than a simple discussion.